ENSEMBLE BIOS

---
Rob Henke

(Trumpet/Actor)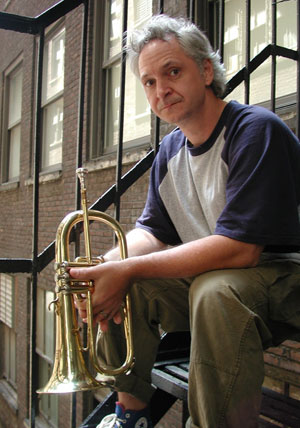 Mr. Henke, trumpet player and composer, graduated from William Paterson College in 1988. He has performed and recorded worldwide with many groups and musicians, including The Spirit of Life Ensemble (currently serving as musical director), The Walter Thompson Orchestra, Doctor Nerve, Tricycle, The Rob Henke/ Rolf Sturm Duo, Mina Agossi, Gary Lucas, Phillip Johnston, and The Strike Anywhere Performance Ensemble. Mr. Henke worked as actor and co- director with Good Clean Fun (1990-2005), an educational theater company. He currently teaches brass and music at the Montclair Kimberly Academy (since 2006) and the Montclair Music Studio (since 2001).
---
Amanda Hinkle Wallace

(Director of Education and Partnerships)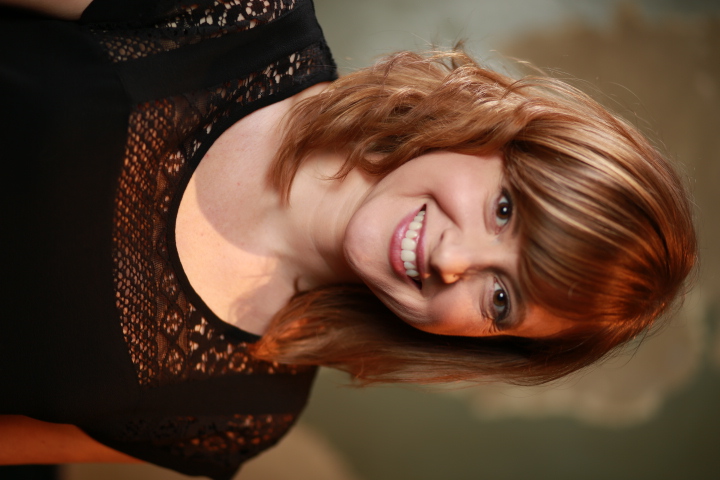 Amanda Hinkle-Wallace has served as Director of Education and Partnerships since 2018. Prior to that, since 2009, Amanda has served as a board member, education coordinator, teaching-artist, grant writer, scenic designer and stage manager at Strike Anywhere. Previously, she managed school partnerships for Roundabout Theatre Company, served as Assistant Director of Education at George Street Playhouse in NJ, and was the Director of Education at Irondale Ensemble Project in Brooklyn. In these various programs, she established technical theatre training, STEM to STEAM programs, new play development series, and issue-oriented programming, along with youth ensembles and multi-institutional partnerships.
---
Nolan Kennedy

(Performer / Lighting Designer)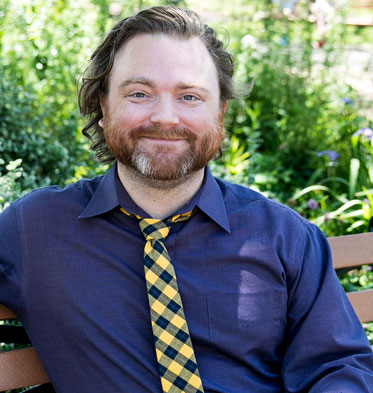 Nolan is an actor, writer, musician, improviser, and playwright. He is a co-founder of Letter of Marque Theater Co., an ensemble member of Strike Anywhere Performance Ensemble, a player in the Walter Thompson Orchestra, a freelance lighting designer, and a teaching artist. Hailing from Chicago, IL, Nolan received his B.F.A. in Acting from Illinois Wesleyan University. He is also half of two bands: Whiskey First and Salon Man.
---
Bryce Payne

(Mover/Actor)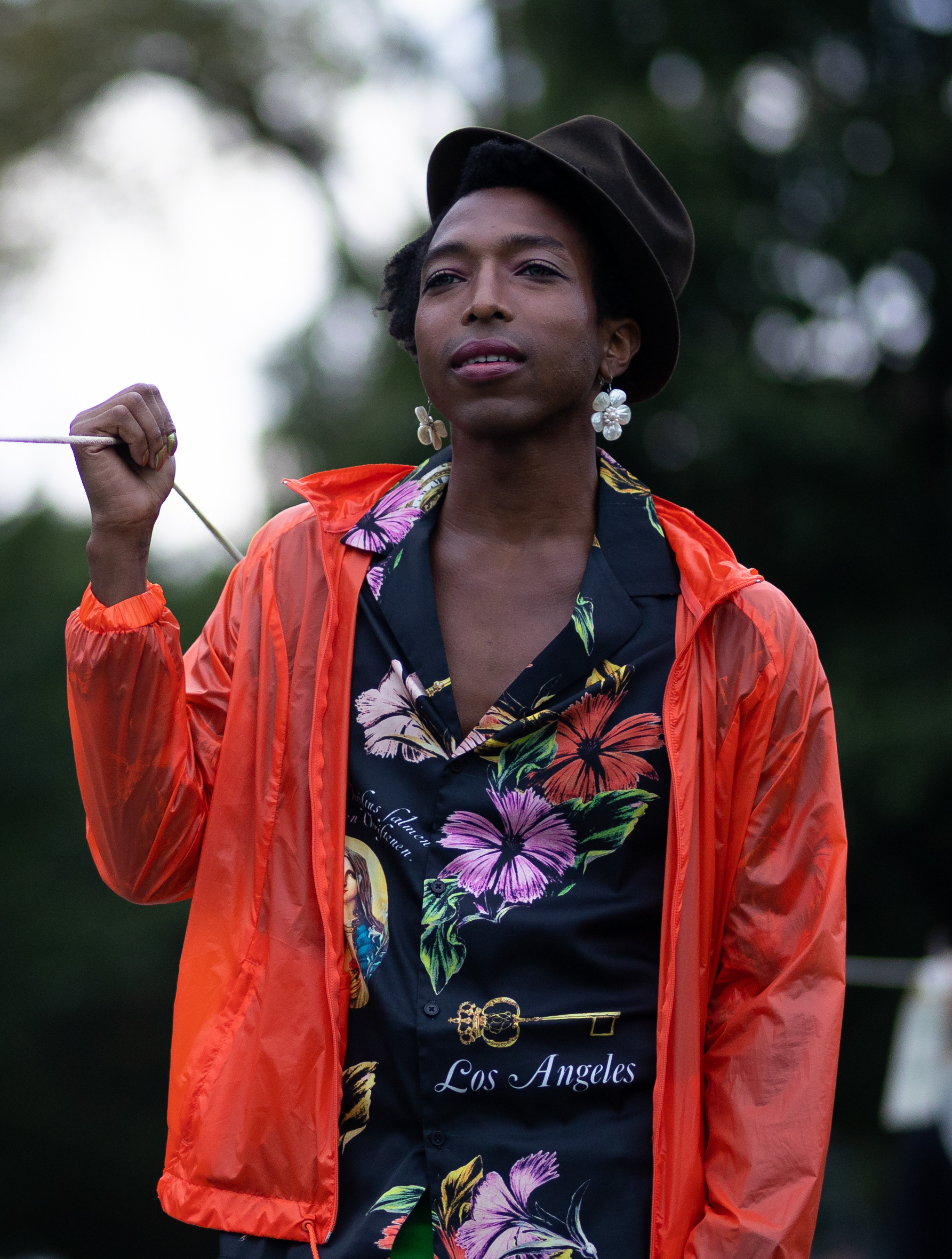 (xe/xem/zyr/xemself) @the.nice bryce Bryce Payne has spent the majority of EC3 adult life making performing/performance art in New York City. Xyr work has been formed by a lifetime of observations and connections made on stages, sidewalks, dance floors, web applications, and subway cars. Xe hopes to maintain xyr humanity in a web of structures designed to corrupt or distort xem; xe hopes to encourage your efforts to do the same.
---
Damen Scranton

(Actor)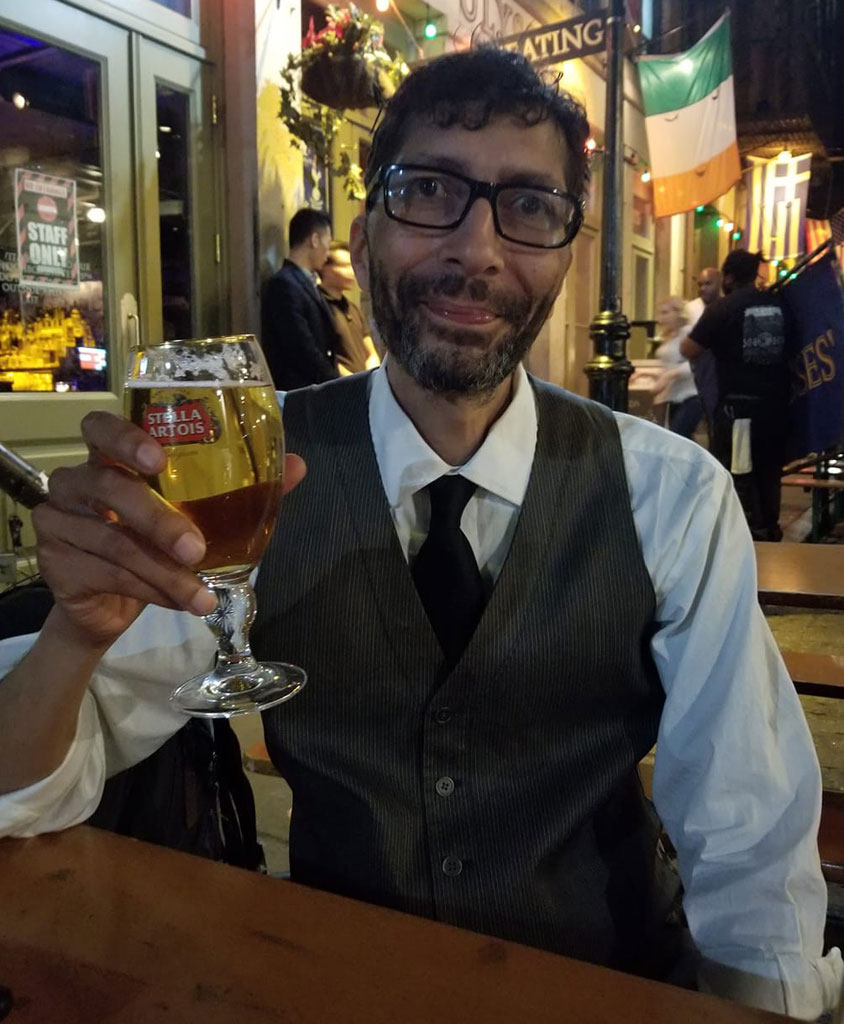 (M.F.A. in Acting, UC San Diego, 1997. B.A. in Writing/Theater, U.C.S.D., 1994). Damen is old. He was an actor and teacher with the Irondale Ensemble Project in NYC for about 75 years. He also worked with Blessed Unrest for 37 years. Favorite roles include Oberon, Bottom, Benedick, James Pennington, and Ebenezer Scrooge (for all of which he was type cast). As a playwright, Damen's plays have been produced at U.C.S.D. and in Ireland at the Dublin Fringe Festival and at the Granary Theatre in Cork. Damen taught a summer Shakespeare course in Oxford, Paris, and Florence through the Putney Excel Student Travel Program for 12 years. He has taught acting at the Carnegie Mellon School of Drama, writing at Marymount College in Manhattan, and improvisation at the Portstewart Community Center in Northern Ireland. He has performed in Ireland, France, Kosovo, Albania, Macedonia, England, Poland, the Czech Republic, and also New Jersey. Damen taught middle school full time for five years in Cambridge, MA, so you can basically do anything and hes like, whatever. This is the reason Strike Anywhere has his heart.
---
Chihiro Shibayama

(Percussionist)
A native of Yokohama City, Japan, Chihiro Shibayama is a versatile New York City & Los Angeles-based freelance percussionist. She has played percussion on a successful run of a Broadway musical, Miss Saigon and her Broadway debut was as one of three on-stage musicians for a new adaptation of The Cherry Orchard starring Diane Lane. She has also performed for the renowned Radio City Christmas Spectacular, ABC's Good Morning America with John Legend and Common, The Metropolitan Opera, Malaysian Philharmonic Orchestra, the Kansas City Symphony, and the San Diego Symphony, among others. As a chamber musician, she regularly performs with American Contemporary Music Ensemble (ACME), Alarm Will Sound, and A Far Cry. She is also a co-founder/ program coordinator of Multicultural Sonic Evolution (MuSE), a non-profit organization that creates a multicultural environment through sound and collaborations with other artistic disciplines such as dance, theater, and film. (www.musefriends.org). Ms. Shibayama earned both Bachelor and Master of Music degrees from The Juilliard School after graduating from Interlochen Arts Academy with a performance award. She proudly endorses Pearl/ Adams Percussion and Dragonfly Percussion. Ms. Shibayamas hobbies include rock climbing, cooking, and baking with a sourdough starter named Phoebe.
---
Rolf Sturm

(Guitar)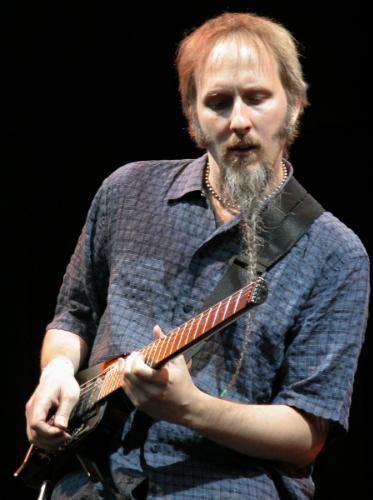 Rolf Sturm has been a full time NYC guitarist since 1984. He appears on over fifty CDs including recordings that feature David Johansen (NY Dolls/ Buster Poindexter), Jorma Kaukonen (Jefferson Airplane, Hot Tuna), Ike Willis (Frank Zappa), Roswell Rudd and members of the Grateful Dead. He has toured the United States, Germany, France, Belgium, Sweden, Austria, Hungary, Canada, and the UK, performing at dozens of jazz, jam band/rock, folk, and blues festivals (including the World Expo 2000 in Hanover, Germany). He has performed at Lincoln Center, the Kennedy Center in Washington, DC. and on soundtracks for both film and television. His music has been featured on National Public Radio's "All Songs Considered" and his last solo guitar recording, "Balance", was awarded 4 stars by DownBeat magazine. More info: www.rolfsturm.org
---
Vickie Tanner

(Actor)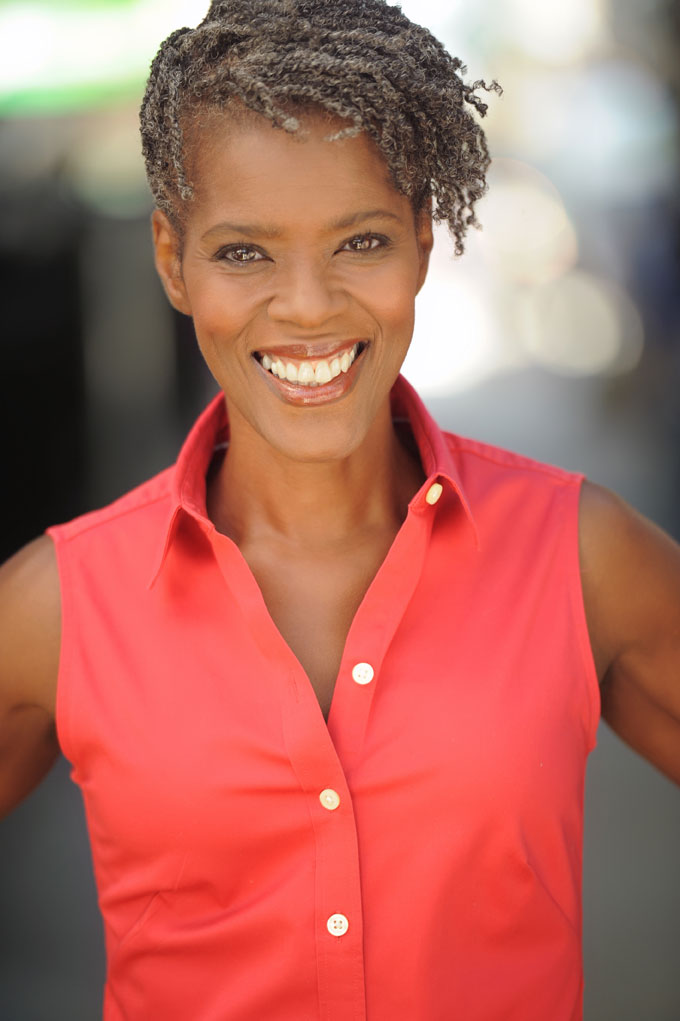 Vickie Tanner received a BFA in Theatre from CSU, Long Beach and studied Meisner with Maggie Flanigan in NYC. Among her theatre credits are STOMP (Orpheum Theatre, National and European Tours); TANTALUS, Denver Center Theatre and British tour the RSC, written by John Barton, directors: Ed Hall and Sir Peter Hall, TWO DAYS, Long Wharf Theatre, by Donald Margulies, director: Lisa Peterson, and THAT DAMN DYKSTRA at Access Theatre director: Margarett Dykstra. She has written and performed her solo play, RUNNING INTO ME , in New York at 59E59 Street Theaters, La Mama, Cherry Lane Studio Theatre, Nuyorican Poet s Cafe, Queens Theatre in the Park, Dixon Place Theatre, the United Solo Festival 2011 & 2012 and NuBox Theatre, in Los Angeles at Whitefire Theatre and at Edinburg Fringe Festival, Underbelly, Cowgate. Directors: Padraic Lillis and Bruce McCarty. Her film credits include Home (a Netflix short), Acts of Worship, Drop Back Ten, No Way Out and The Apology. Television: NYPD Blue, STOMP Out Loud, Wonderland (recurring - dir. Peter Berg), Law and Order SVU, One Life to Live and Mercy. Vickie is currently writing and producing a new web series, One Cuckoo, which has been screened in Lift-Off New York and Harlem Film Festivals. She works as a master teaching artist with Park Avenue Armory, Roundabout Theatre Company, Manhattan Class Company and Strike Anywhere and is married with 2 cats: Monstress Cinnamon and Trouble, King of MacDonough. www.VickieTanner.com
---
Leese Walker

(Artistic/Producing Director, Actor, Master Teaching-Artist)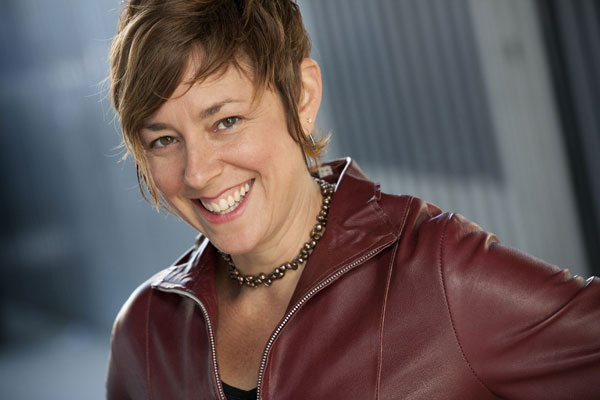 LEESE WALKER is an interdisciplinary performance artist, director, producer and teaching-artist. Leese is the founder and Artistic Director of NYC's Strike Anywhere Performance Ensemble. She established the company in 1997 to create politically-charged, original works that blur the lines between jazz, theater and modern dance. Leese figures strongly in the history of Soundpainting. She was the first actress to be soundpainted and was instrumental in helping inventor Walter Thompson to adapt the Soundpainting language for theater. The language has since evolved to include all performance disciplines and is now practiced in 35 countries world-wide. Leese has been a core member of the Walter Thompson Orchestra since 1997 and is one of three certified multidisciplinary soundpainters in the United States. Leese has soundpainted at Lincoln Center, Brooklyn Academy of Music, American Airlines Theater, the Irondale Center, Bard College, and internationally in Milan, Paris, London, Tours, Bordeaux, Barcelona and in Bali, Indonesia. Her work has been featured on Radio France, NPR, German Public Radio and U.S. television. Leese is the recipient of the 2011 BAX Arts Educator Award, the 2010 Arts Presenters Emerging Leaders Scholarship, and the 2004 APPEX Fellowship in Ubud, Bali. Leese freelances as a Master Teaching-artist with Roundabout Theatre and has taught master classes and professional development intensives for the Education Departments of BAM, Lincoln Center, Het Nationale Theater in the Netherlands, Roundabout Theatre among others. She served on the Board of Directors for the Network of Ensemble Theatres from 2003-2008.
---