PRODUCTION DESCRIPTION

---
10 Brecht Poems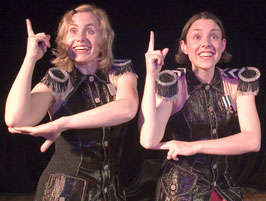 Featured on NPR, WBAI and German Public Radio, Strike Anywhere Performance Ensemble and NaCl Theatre present a dynamic, two-woman theatre piece entitled, 10 Brecht Poems. New York based actresses, Tannis Kowalchuk (NaCl Theatre) and Leese Walker (Strike Anywhere) make use of their extensive training in physical theatre, music, visual art, and storytelling to bring to life 10 poems by Bertolt Brecht, the renowned German playwright and social critic. Kowalchuk and Walker, the creators of the show, use satire and a variety of performance styles to examine the horrors of war, the importance of solidarity and the need for dissent. Aside from tight vocal harmonies, precise movement, and powerful text, the performance also features hand-painted slides and shadow puppets by the pair. 10 Brecht Poems has toured to over 40 venues following extended runs at NYC's Brecht Forum in 2003 and 2004. The show was presented in 2005 in Chicago (sponsored by Poetry Magazine) and at the Goethe Institut in Washington DC. In New York City, the piece has been seen at the Zipper Factory, PS 122, Galapogos, Judson Memorial Church, B.R.I.C., Bowery Poetry Club and HERE Arts Center. The show has toured to numerous colleges including: Brown University, Penn State, Trinity College, Hood College, Muhlenberg, New York University and several S.U.N.Y schools. 10 Brecht Poems was featured at the 2007 Fury Factory Festival in San Francisco, the 2005 Magdalena Festival, the 2003 KO Festival of Performance, the 2002 and 2003 Catskill Festival of New Theatre and excerpts were shared at the 2005 Network of Ensemble Theatres Festival in California. Currently touring - residencies and pre-show workshops are available for university and high school students.
"Performing in a vaudevillian style including song, dance, storytelling, hand-painted slides and shadow-puppets, Tannis Kowalchuk and Leese Walker could be serving fairy tales to the kiddies, but their intent is far more poignant and appreciated."


- Village Voice
---
Click here for more production descriptions...
---