PRODUCTION DESCRIPTION

---
The Macbeth Variations (a bilingual French/English production)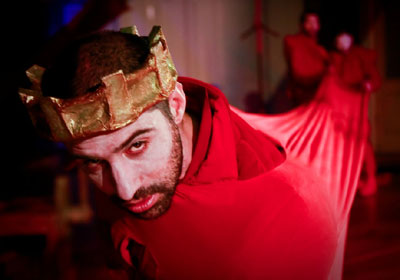 The Macbeth Variations is an international collaboration between Strike Anywhere and ANITYA (Paris, France). ANITYA is the foremost French practitioner of Soundpainting, the sign language used to structure improvisations invented by Walter Thompson. Strike Anywhere is one of only two interdisciplinary ensembles in the U.S. currently applying Soundpainting to classical text. Stage 1, performed in Paris in November 2008, layered excerpts from Verdi's "Macbeth", Jarry's "Ubu Roi" and Shakespeare to create a vibrant, multi-media mosaic which explored the nature of ambition and the question of free-will vs. fate. Stage 2 will take place in NYC in October 2009. Using physical theater, modern dance, improvised new music and Soundpainting, the piece explores excerpts from Shakespeare's "Macbeth" to create a highly-charged interdisciplinary performance event that is different every night.
""An event that brings together musicians, puppeteers, dancers, and actors in an audacious version of Shakespeare's Macbeth. Shakespeare would have been proud of this modern take of his classic" "


- Daniel Brown, Radio France
LISTEN TO AN MP3 AUDIO RECORDING FROM RADIO FRANCE.
---
Click here for more production descriptions...
---