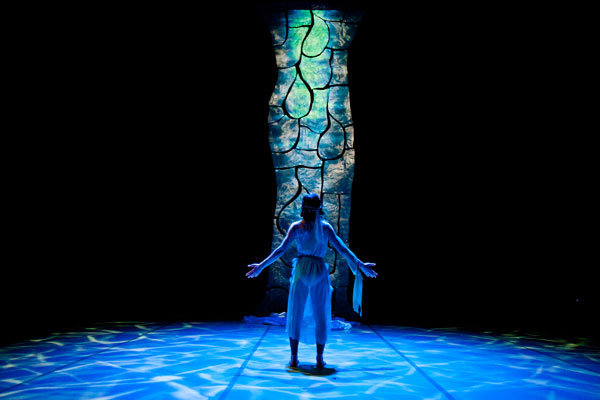 "SAME RIVER" is an improvised, interdisciplinary performance based on interviews with local residents about "fracking". Hydraulic fracturing or "fracking" is a controversial gas-drilling technique that is currently employed in 34 states. "SAME RIVER" tours to areas directly affected by shale gas drilling. The show is customized to reflect each community. The ensemble performs a residency in each locale during which time it conducts interviews with a diverse array of community members. Strike Anywhere (SA) uses the collected information and personal stories to create a high-quality, improvised performance with social and political significance. At the end of the performance, SA engages the audience in an intimate reflection process and facilitates a town-hall style meeting. Partnerships with multiple community organizations at each tour site allow SA to engage a large cross-section of the community. The goal of the project is to provide a forum for meaningful dialogue, empathy, awareness and local action.
"SAME RIVER" requires presenters who are actively involved in the development and promotion of the work. Strike Anywhere establishes a main partner in each touring locale who presents the work and connects SA to other community organizations. These secondary partners provide access to interview subjects, help publicize the show, and may provide housing, rehearsal space or other resources. Strike Anywhere draws non-traditional audience in addition to regular theater-goers thanks to its partnerships and as a result of the interview process. SA has honed its expertise of touring over the last 21 years.
Established in 1997, Strike Anywhere devises original performances that are collaboratively-crafted by the ensemble. SA performances always feature live music, physical theater and modern dance. The company applies structures and concepts from American jazz to their inter-disciplinary improvisations to create performances that are provocative and alive. The ensemble has shared its work at theatres, conferences and festivals both nationally and internationally. The company has performed in Hawaii, France, at the Brooklyn Academy of Music, and has been featured on Radio France, NPR, German Public Radio and U.S. television.
""Call it, Hydrofracking The Play. 'Same River', features dance and improvisation based on interviews of residents in rural communities that have been turned upside down by the controversial gas-extraction method." -Brenna Walton, The New York Times - The Local

"Strike Anywhere's skill at communicating the complexity and pathos of the issue of our water, our way of life, of our relationship to the gas and oil industry infiltrating our neighborhoods was striking." -Sabrina Artel, WJFF Radio

"As NY considers drilling as many as 100,000 wells in the watershed for over 16 million people, Same River brings the human stories of those who are in the pathway of this industry to the fore." -David L'Heureux, Senior Editor, Rodale.com "


-