CURRENT PRODUCTIONS

---
PoP Up
"PoP Up" is a series of pop-up performances designed to inject wonder and delight into everyday spaces. Short, site-specific pieces of music, theater, dance and visual art appear on the street, in windows, parks, plazas and businesses of a specific neighborhood. The performances are inspired by real stories collected through interviews with local residents and business owners. Artists meet one-on-one with locals to gather stories about the neighborhood. Those stories are then reflected through the lens of music, dance, visual art or theater appearing in the very place where the story was collected or took place. The material is then transformed in the moment by a composer/conductor who sculpts the artists' performances through a live-composing sign language called Soundpainting. Pieces are poetic, transitory, alternately abstract, hilarious or poignant but always surprising. The project is designed to connect people by highlighting the extraordinary within the ordinary; to shift the way we see a familiar space by peeping into the lives of the inhabitants through poetic, momentary dreamscapes.
The project is a collaboration between the Strike Anywhere Performance Ensemble (NY, NY) and the Tours Soundpainting Orchestra (Tours, France). The companies work with a local host who serves as a liaison to the local community. During the 6 months leading up to the set of performances, artists meet with community members to gather stories about the place. Local residents are asked about their dreams and wishes for the neighborhood, about memories and surprising stories that took place there. These then inspire "palettes" or short compositions by the artists as well as a beautiful artistic map of the neighborhood designed by cartographer Julien Rodriguez. Performances are remixed through the soundpainting language. The company offers community Soundpainting workshops leading up to the performance so that community members can participate in key scenes.
---
SAME RIVER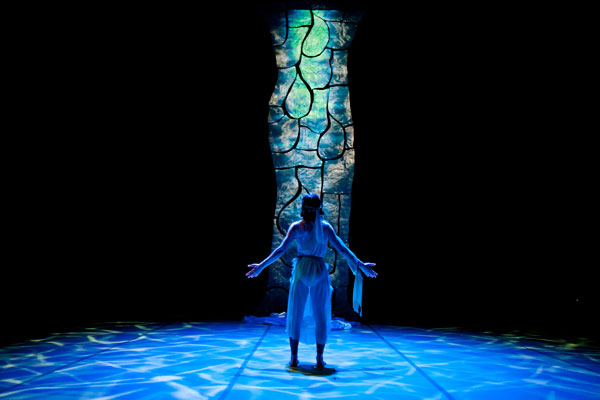 "SAME RIVER" is an improvised, interdisciplinary performance based on interviews with local residents about fracking. Hydraulic fracturing or "fracking" is a controversial gas-drilling technique that is currently employed in 34 states. "SAME RIVER" tours to areas directly affected by shale gas drilling. The show is customized to reflect each community. The ensemble performs a residency in each locale during which time it conducts interviews with a diverse array of community members. Strike Anywhere (SA) uses the collected information and personal stories to create a high-quality, improvised performance with social and political significance. At the end of the performance, SA engages the audience in an intimate reflection process and facilitates a town-hall style meeting. Partnerships with multiple community organizations at each tour site allow SA to engage a large cross-section of the community. The goal of the project is to provide a forum for meaningful dialogue, empathy, awareness and local action.

"SAME RIVER" requires presenters who are actively involved in the development and promotion of the work. Strike Anywhere establishes a main partner in each touring locale who presents the work and connects SA to other community organizations. These secondary partners provide access to interview subjects, help publicize the show, and may provide housing, rehearsal space or other resources. Strike Anywhere draws non-traditional audience in addition to regular theater-goers thanks to its partnerships and as a result of the interview process. SA has honed its expertise of touring over the last 18 years.

Established in 1997, Strike Anywhere devises original performances that are collaboratively-crafted by the ensemble. SA performances always feature live music, physical theater and modern dance. The company applies structures and concepts from American jazz to their inter-disciplinary improvisations to create performances that are provocative and alive. The ensemble has shared its work at theatres, conferences and festivals both nationally and internationally. The company has performed in Hawaii, France, at the Brooklyn Academy of Music, and has been featured on Radio France, NPR, German Public Radio and U.S. television.
"Call it, Hydrofracking The Play. 'Same River', features dance and improvisation based on interviews of residents in rural communities that have been turned upside down by the controversial gas-extraction method." -Brenna Walton, The New York Times The Local

"Strike Anywhere's skill at communicating the complexity and pathos of the issue of our water, our way of life, of our relationship to the gas and oil industry infiltrating our neighborhoods was striking." -Sabrina Artel, WJFF Radio

"As NY considers drilling as many as 100,000 wells in the watershed for over 16 million people, Same River brings the human stories of those who are in the pathway of this industry to the fore." -David LHeureux, Senior Editor, Rodale.com
View videos and listen to interviews about SAME RIVER on our VIDEO page.
---
Soundpainting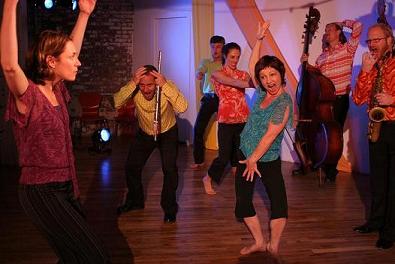 Mixing physical theatre, new music, masks and modern dance, Strike Anywhere Performance Ensemble adeptly explores the untapped edges of improvisation. Using a revolutionary new approach to composition, the troupe sculpts their improvisations through a conducting language called Soundpainting. Soundpainting is the live composing sign language created by New York composer Walter Thompson for musicians, dancers, actors, poets, and visual artists working in the medium of structured improvisation. At present the language comprises over 750 gestures that are signed by the composer/conductor indicating the type of improvisation desired of the performers. Direction of the composition is gained through the parameters of each set of signed gestures. Strike Anywhere is the only theatre company of its kind using this revolutionary approach to improvised performance. Currently available for tour. Residencies, collaborations and commissions are available to create "themed-Soundpaintings". A Shakespeare Soundpainting is currently in the works. John Lennon: a Soundpainting will premiere in NYC in spring of 2008.
Led by founder and director Leese Walker, Strike Anywhere Performance Ensemble merges music, theater, improvisation, and structured composition into a total multi-media experience – a "happening" in which art leaps off the wall and into the seat next to us.
- Asbury Park Press
Examples of previous "themed-soundpaintings" include:

Eating Our Way to Extinction: A Soundpainting of Epic Proportions (October, 2007-Globesity Festival - Theatre for the New City, NYC)
Commissioned specifically as the closing event for the Festival, Strike Anywhere tapped its natural resources to create a super-sized Soundpainting examining America's over-the-top obsession with over-consumption! While the trumpeter ate close to a dozen hamburgers after playing a blistering trumpet solo, actors riffed on a series of satiric diet commercials and talk show parodies in a theater filled with the smell of bacon.

John Lennon: A Soundpainting (September, 2007-Network of Ensemble Theaters Annual Gathering - Fayette, ME - WOrk-in-Progress Showing)
An improvised composition weaving quotes from interviews, poetry and songs by John Lennon into a colorful multi-media mosaic. John Lennon: A Soundpainting will premiere in NYC in the spring of 2008.

Riverhead (March 5, 2005-Red Bank, NJ)
Commissioned by the Two River Theatre Company in Red Bank, NJ, this fantastical creation story was specially crafted by the ensemble to honor the town and celebrate the the opening of Two River's new theater. Presented as part of the New Jersey Theater Alliance's statewide event, Family Week.

Safety & Security (November 2004 – Galapagos-Brooklyn, NY)
A soundpainted response to the color-coded climate of fear perpetrated by the Bush Regime in 2004.
---
Windows and Mirrors
Windows and Mirrors is a curated storytelling show in which performers share true stories that shaped them as people and the stories twist around a specific theme. The performance features live music.
---